As an Executive Chef, or with his specialty products sold at SOBEYS and COOP IGA in Shediac, or behind the microphone of the most listened to morning radio program in South-East New Brunswick - CJSE FM89 and assisting non-profit organizations in our communities, Chef Gilles does not disappoint.

"The past 44 years have allowed me to enjoy very different careers in all levels of corporate management as well as music either personally or as a busy musician. , However, my little secret has always been the enjoyment I get when preparing great food, creating great meals for great events.

And now with the experience of "Chez le Bootlegger's Steakhouse, Seafood Bar & Grill" restaurant at Maison Tait House in Shediac behind me, I truly missed the pleasure of serving my clients as your executive chef of 'Private Chef Service' and 'Personal Chef Service' private practices.

My team now has the clear mandate to make each of my client's menus, no matter the theme or the size, a great culinary experience. Customizing my menus and then preparing fresh, flavorful foods for my clients is a pleasant and natural expression of my enthusiasm to contribute to their wonderful gathering."

Over the years, Chef Gilles has refined his culinary techniques. To this day, he is constantly adding to his menus, learned from what he discovers around him, from his travels, his friends and even his neighbors down the street.

"I look forward to serving you and yours". Chef Gilles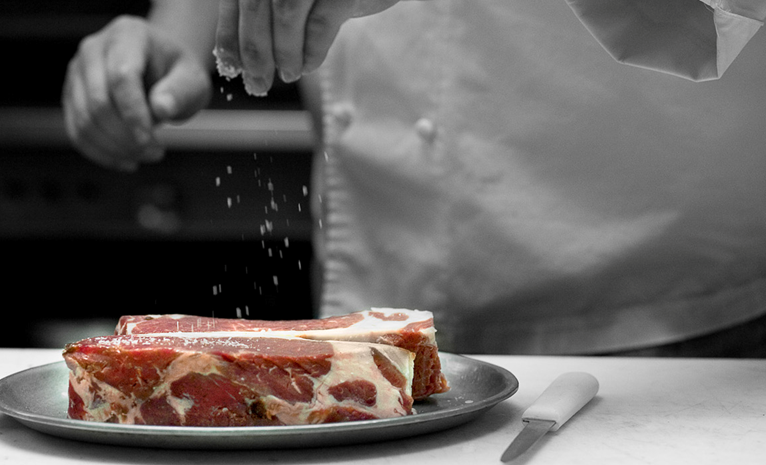 Que ce soit à titre de Chef exécutif, ou avec ses produits de spécialité vendus chez Sobeys et COOP IGA, Shediac, ou derrière le micro de l'émission de radio matinale la plus écouté de la radio dans le Sud -est du Nouveau -Brunswick, CJSE FM89, et en aidant les organismes à but non lucratif de nos communautés, Le chef Gilles ne déçoit pas.
« Les 44 dernières années m'ont permis de profiter de très différentes carrières dans tous les niveaux de la gestion d'entreprise ainsi que d'apprécier la musique dans mon salon ou comme musicien professionnel. Cependant, mon petit secret a toujours été la jouissance que je ressens lors de mes préparations de bonne bouffe, la création de savoureux repas pour de grands événements.
Alors, maintenant que l'expérience du restaurant « Chez le Bootlegger's Steakhouse, Fruits de mer et Bar » à la Maison Tait House à Shediac est derrière moi, ce n'est plus un secret, le moment est venu pour moi de retourner à promouvoir mon service de "Chef privé" et "Chef personnel" avec le clair mandat de faire que chacun des événements de mes clients, peu importe le thème ou le nombre, soit une belle expérience culinaire.
La personnalisation de mes menus et la préparation d'aliments frais et savoureux deviennent des expressions agréables et naturelles de mon enthousiasme afin de contribuer aux merveilleuses rencontres de mes clients ».
Au fil des années, le chef a raffiné ses techniques culinaires. À ce jour, il ajoute constamment à ses menus, tirés de ce qu'il découvre autour de lui, de ses voyages, de ses amis et même ses voisins.

« Au plaisir de vous servir ».