While viewing the website, please remember that I have served thousands of customers, from intimate dinners for 2, to events of 450 people or more.
Each occasion has its own theme or reason to be, therefore, it is unworkable for me to post examples of customized menus for all occasions.
Contact me for your next private event or personal chef needs and together, we will create the menu tailored to your wishes, within your established budget for your enjoyment, your family and your guests.
Here, I invite you to peruse a few examples of menus I have created over the past few years. Thank you and I sincerely hope to serve you and yours in the very near future.
Tout en visionnant ce site Web, rappelez-vous que j'ai servi des milliers de clients, incluant des dîners intimes pour 2, jusqu'à des événements de 450 personnes ou plus. Chaque occasion a son propre thème ou sa raison d'être, par conséquent, il est impossible de publier des exemples de menus personnalisés pour toutes les occasions.
Contactez-moi pour votre prochain événement privé ou vos besoins d'un chef personnel et ensemble, nous créerons le menu adapté à vos souhaits, dans votre budget établi pour votre plaisir, votre famille et vos invités.
Ici, je vous invite à revoir quelques exemples de menus que j'ai créés au cours des dernières années. Merci et j'espère sincèrement vous servir dans un futur rapprocher.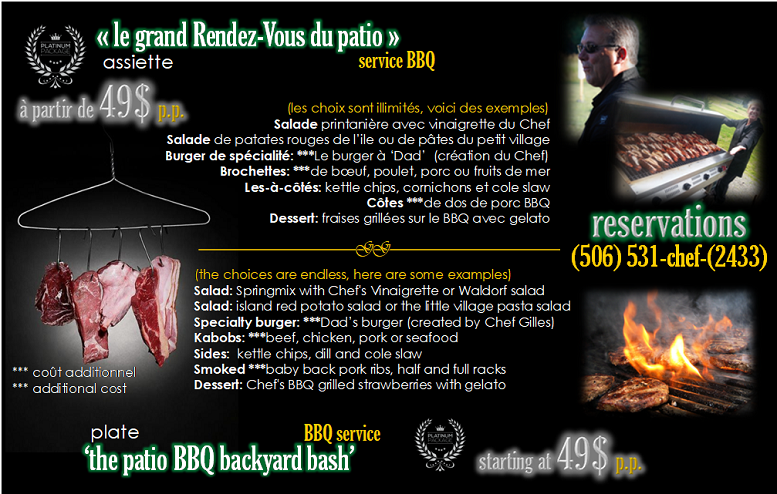 'Dad's Burger' is a creation of Chef Gilles.
This specialty burger was created to celebrate
the 50th birthday of the Chef's father,
whom to this day is affectionately addressed as 'Dad'.
This recipe now dates back 32 years, and an adaptation of the recipe is recognized in the Shediac NB area
as the 'Shediac Burger', sold from the Sobeys grocery store in Shediac.
More than 12,000 Shediac burgers have been sold since 2011.
Le 'Burger à Dad' est une création de Chef Gilles.
Ce met de spécialité fut créer pour célébrer le 50 ans du père du Chef que l'on adresse toujours par 'Dad'.
Cette recette datte maintenant de 32 ans et une adaptation de la recette est reconnu dans la région
de Shediac NB, comme étant le 'Shediac Burger', vendu chez l'épicerie Sobeys de Shediac.
Plus de 12,000 'Shediac burgers' ont été vendu depuis 2011.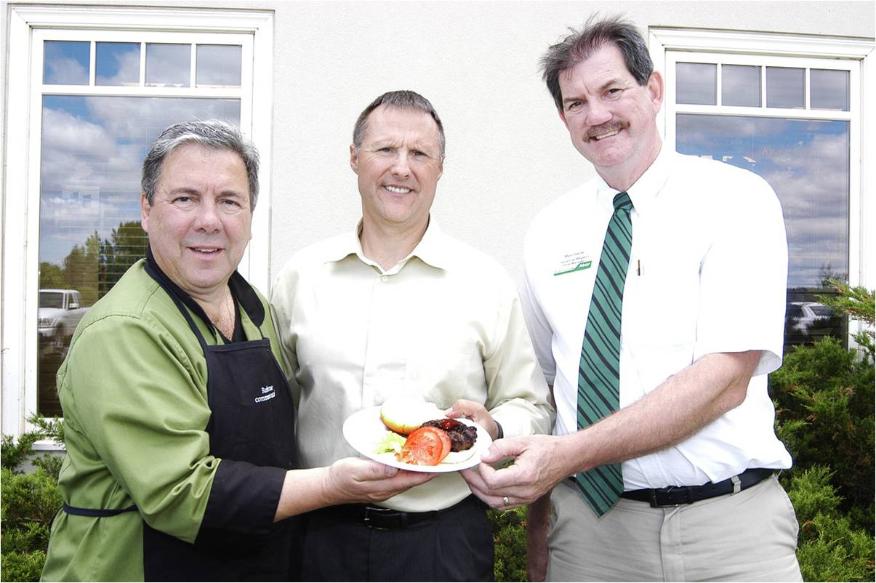 SPRING OF 2012
Chef Gilles, then mayor of Shediac, Jacques Leblanc and SOBEYS' Manager, Mario Savoie (now retired)

The Shediac Burger - official burger of the city of Shediac NB, CAN