While viewing the website, please remember that I have served thousands of customers, from intimate dinners for 2, to events of 450 people or more.
Each occasion has its own theme or reason to be, therefore, it is unworkable for me to post examples of customized menus for all occasions.
Contact me for your next private event or personal chef needs and together, we will create the menu tailored to your wishes, within your established budget for your enjoyment, your family and your guests.
Here, I invite you to peruse a few examples of menus I have created over the past few years. Thank you and I sincerely hope to serve you and yours in the very near future.
Tout en visionnant ce site Web, rappelez-vous que j'ai servi des milliers de clients, incluant des dîners intimes pour 2, jusqu'à des événements de 450 personnes ou plus. Chaque occasion a son propre thème ou sa raison d'être, par conséquent, il est impossible de publier des exemples de menus personnalisés pour toutes les occasions.
Contactez-moi pour votre prochain événement privé ou vos besoins d'un chef personnel et ensemble, nous créerons le menu adapté à vos souhaits, dans votre budget établi pour votre plaisir, votre famille et vos invités.
Ici, je vous invite à revoir quelques exemples de menus que j'ai créés au cours des dernières années. Merci et j'espère sincèrement vous servir dans un futur rapprocher.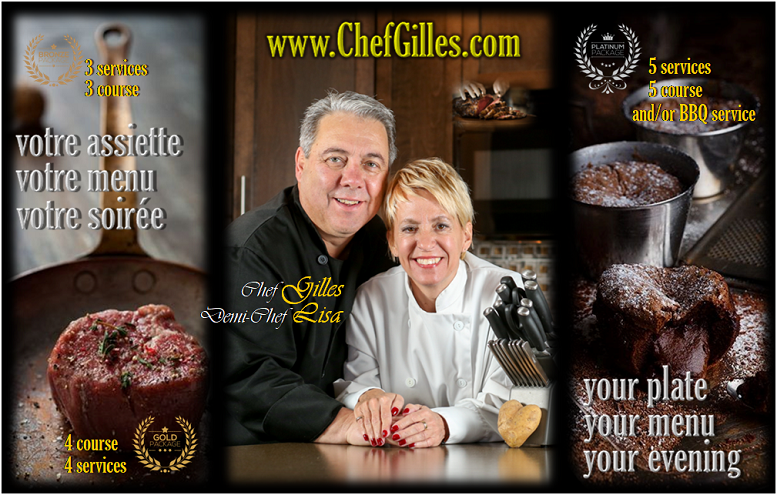 The names of the plates on this page were chosen as a result of a personal association
of Chef Gilles with these Acadian artists.
His friends Laurie Leblanc, Daniel Léger and Brian Mallery are all anchors of Acadian culture.
The chef's inspiration came as a way for him to recognize this culture that represents so well
the talents in music and literature of southeastern New Brunswick.
Les noms des assiettes de cette page parviennent d'association personnelle
de Chef Gilles avec des artistes acadiens.
Ses amis, Laurie Leblanc, Daniel Léger et Brian Mallery
sont tous biens ancrés dans la culture Acadienne.
L'inspiration du chef lui est venue afin de reconnaitre cette culture qui représente si bien les talents
en musique et littérature du sud-est du Nouveau-Brunswick.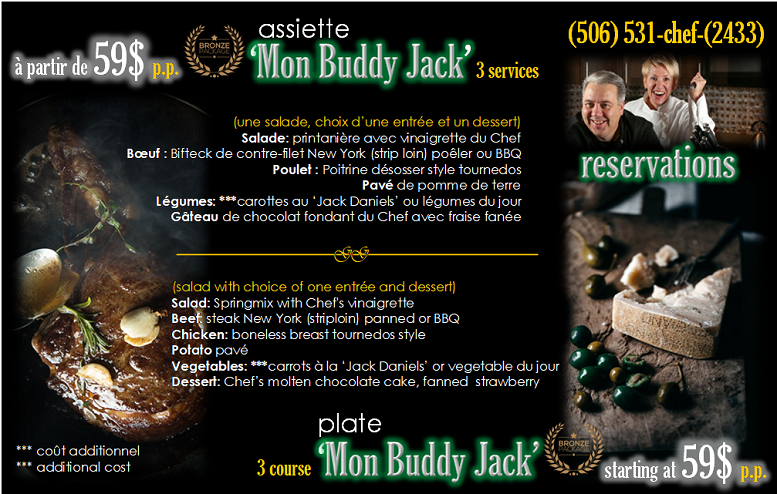 The name of the
'Buddy Jack' plate is borrowed from a song that became number 1
on all New Brunswick country charts.
Brian Mallery, the author, composer and performer of the song
is native of Cap Pelé NB, Canada.
L'assiette
'Mon buddy Jack'
est emprunté du nom d'une chanson qui est devenue numéro 1
dans tous les palmarès country du Nouveau-Brunswick.
L'auteur, compositeur et interprète de la chanson est natif de Cap Pelé NB, il s'agit de Brian Mallery.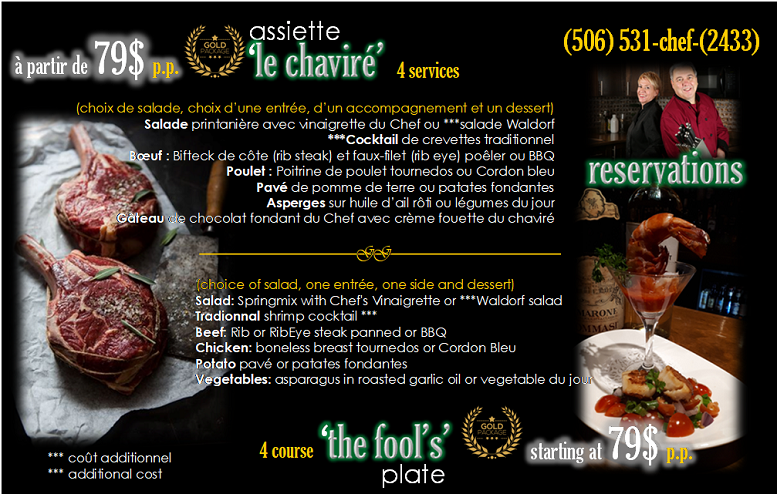 The
'fool's plate' is loosely translated from the name of the country album 'Chaviré' that has produced
no less than 5 number 1s in all New Brunswick music charts.
The author, composer and performer is a native of Saint-Antoine NB, and affectionately known as
our Acadian 'fool' is none other than Daniel Léger.
L'assiette
'le chaviré' est le nom d'un album country qui a produit pas moins que 5 numéros 1
dans tous les palmarès du Nouveau-Brunswick.
L'auteur, compositeur et interprète est natif de Saint-Antoine NB, notre 'chaviré' Acadien est nul autre que
Daniel Léger.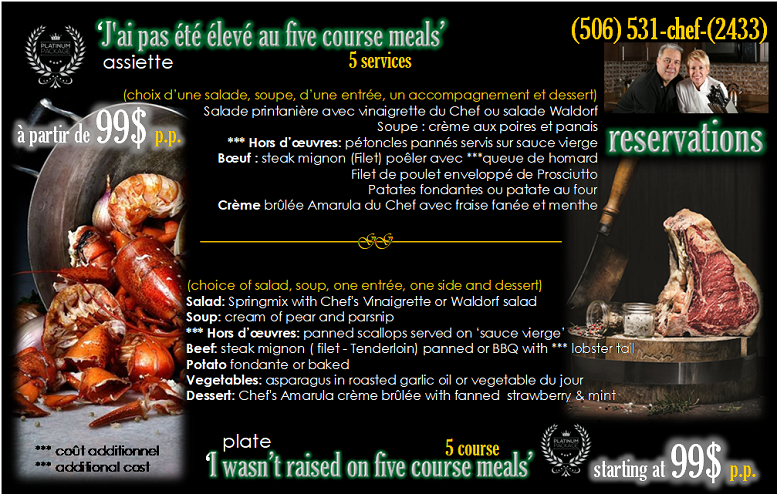 The plate named 'I wasn't raised on five course meals' is a loose translation of a French Country song which rose to number 1 of the album entitled '20', which in turn won album of the year at the 2016 Country Gala in
Montréal
.
The author, composer and performer is Laurie Leblanc of Bouctouche NB.
L'assiette
'J'ai pas été élevé au five course meals'
est le nom de la chanson numéro 1 de l'album '20',
l'album de l'année du Gala country 2016 à Montréal.
L'auteur, compositeur et interprète est Laurie Leblanc de Bouctouche NB.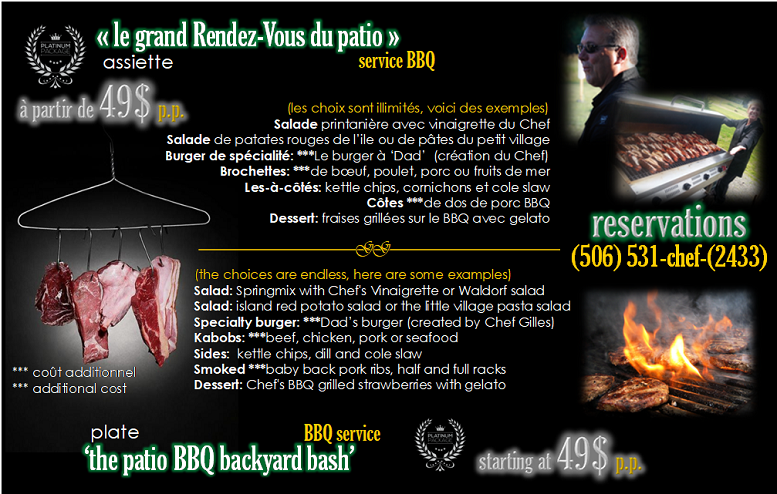 'Dad's Burger' is a creation of Chef Gilles.
This specialty burger was created to celebrate
the 50th birthday of the Chef's father,
whom to this day is affectionately addressed as 'Dad'.
This recipe now dates back 32 years, and an adaptation of the recipe is recognized in the Shediac NB area
as the 'Shediac Burger', sold from the Sobeys grocery store in Shediac.
More than 20,000 Shediac burgers have been sold since 2011.
Le 'Burger à Dad' est une création de Chef Gilles.
Ce met de spécialité fut créer pour célébrer le 50 ans du père du Chef que l'on adresse toujours par 'Dad'.
Cette recette datte maintenant de 32 ans et une adaptation de la recette est reconnu dans la région
de Shediac NB, comme étant le 'Shediac Burger', vendu chez l'épicerie Sobeys de Shediac.
Plus de 20,000 'Shediac burgers' ont été vendu depuis 2011.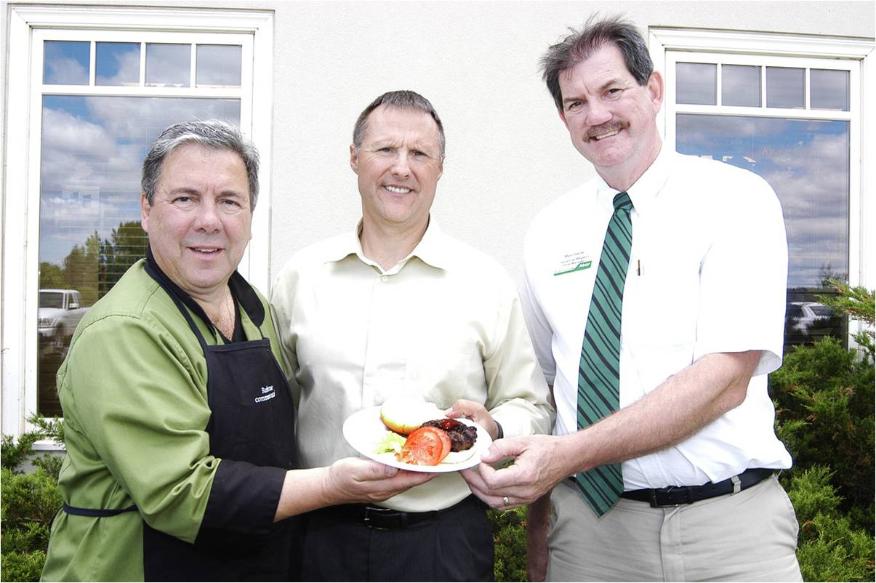 SPRING OF 2012
Chef Gilles, then mayor of Shediac, Jacques Leblanc and SOBEYS' Manager, Mario Savoie (now retired)

The Shediac Burger - official burger of the city of Shediac NB, CAN